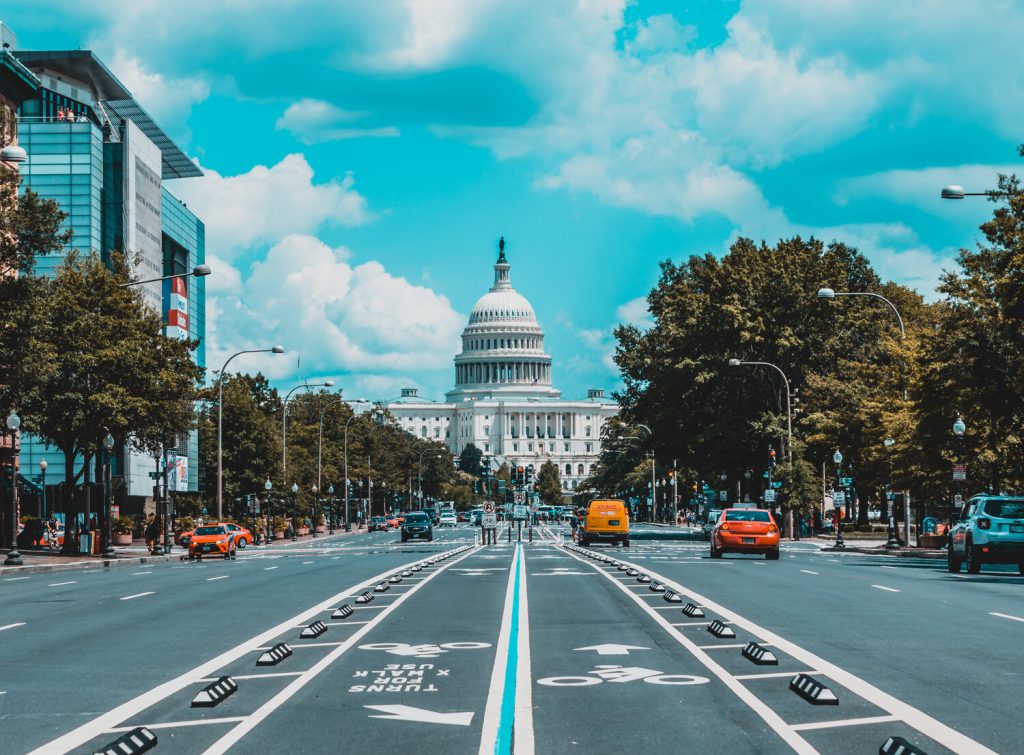 In the uneasy reality filtered through the lens of a CoVid pandemic we are awash in an alphabet soup of relief packages that are promising to help our institutions, households, states, and cities snap back into some semblance of a new normal.
The CARES Act stands for Coronavirus Aid, Relief, and Economic Security. It was passed overwhelmingly by the US Congress and signed by President Trump on March 27th, 2020. Billions of funds have been eared marked for educational institutions to help implement distance learning tools, but also funds to assist students. From the PPP (Payroll Protection Program) to the Trump check the CARES act covers a lot of ground. If you work on the frontlines of healthcare, taking some time to get familiar with it will be important both personally and professionally.
The Health and Economic Recovery Omnibus Emergency Solutions Act or the HEROES Act is an additional $3 trillion stimulus package passed in the House, but not the Senate, and thus far not supported by the President. If passed the HEROES Act will provide, among other things, hazard pay for frontline health care workers, student debt forgiveness, and bolster Medicaid and Medicare.
It's all very fast-moving and can leave one breathless.
So, if you've been busier than a one-legged cat in a sandbox and feel like you've been running all over hell's half-acre then we hope this link roundup of resources about the CARES Act and the pending HEROES Act will save you a handful of minutes.
Best of luck and keep fighting the good fight.
And remember …..
You live to save lives.
We live to help you save more lives.
Check out PerSim ®, the holographic patient.
But first, checking out this guide we put together for you.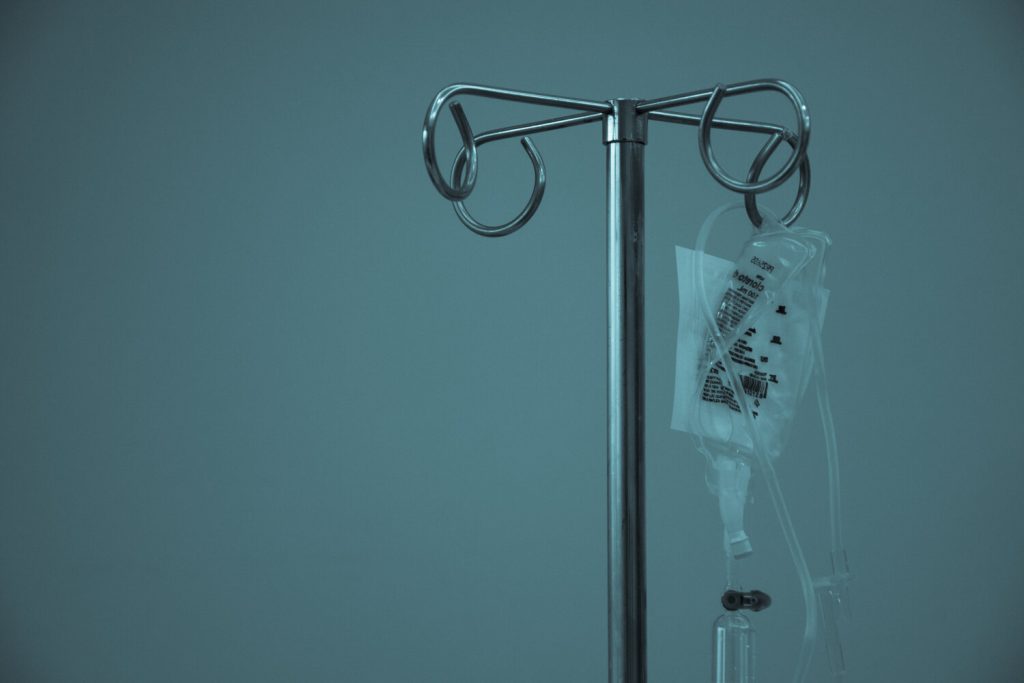 "The largest emergency response bill in history, the CARES Act allocates nearly $2 trillion in emergency funding to provide relief to households, small and large businesses, states and municipalities, and healthcare providers, among others."
"This infographic breaks down the CARES Act to explain some key funding items in the legislation."

What's in the CARES Act? Here's a Summary, courtesy of Peter G. Peterson Foundation
---
The CARES Act Has Passed: Here Are The Highlights
"In the midst of [the pandemic], heroes have emerged, medical personnel who are on the front-lines of a pandemic, doing whatever they can to heal the sick and preserve lives, police, and firefighters, rushing in to help when everyone else is rushing away, and teachers who look for creative ways to continue to invest in children. "
Click here to read a great Forbes article to learn about key provisions included in the bill and what that may mean for you.
---
A Visualization of the CARES Act
For those of you like me, an image can make the difference between comprehension and loss of focus.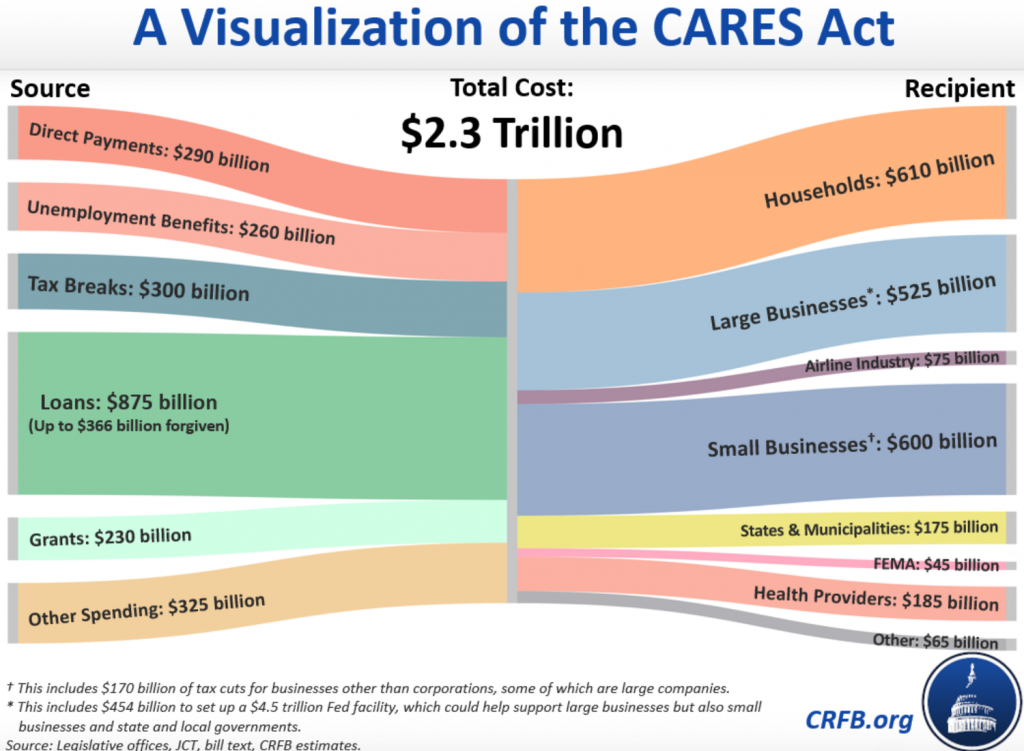 A SUMMARY OF HIGHER EDUCATION PROVISIONS IN H.R. 748, THE CORONAVIRUS AID, RELIEF, AND ECONOMIC SECURITY (CARES) ACT
$30.75 Billion in total

46% going to Higher Education
43.9% going to K-12
9.8% going to a Governor's Fund for states

Regulatory Flexibility
Tax Provisions
Scientific Research Funding
Cultural Agencies Funding
Click here to read a succinct summary.
---
You've seen the CARES Act stimulus payment, but did you see the strings?
This concise EMS1 article lets you know what you are agreeing to by taking the governments money.
If you keep the funds, then you agree that:
You are in good standing with Medicare/Medicaid and will provide COVID-19 related care.
Funds must be used for COVID-19.
No double-dipping is allowed.
Reporting is mandatory for every recipient.
You will waive out-of-network costs to the patient.
And many more terms and conditions apply.
---
CARES Act Higher Education FAQ (click here)
HOW LONG WILL IT TAKE FOR CARES ACT EDUCATION FUNDING TO BE DISTRIBUTED?
WHERE WILL THE ED (DEPARTMENT OF EDUCATION) POST GUIDANCE AND UPDATES ON THE CARES ACT?
WHAT FUNDING IS DEDICATED TO HIGHER EDUCATION INSTITUTIONS?
WHAT PROVISIONS ARE MADE FOR UNIVERSITY-AFFILIATED ORGANIZATIONS?
HOW MUCH FUNDING WILL EACH STATE RECEIVE?
AND MUCH, MUCH MORE….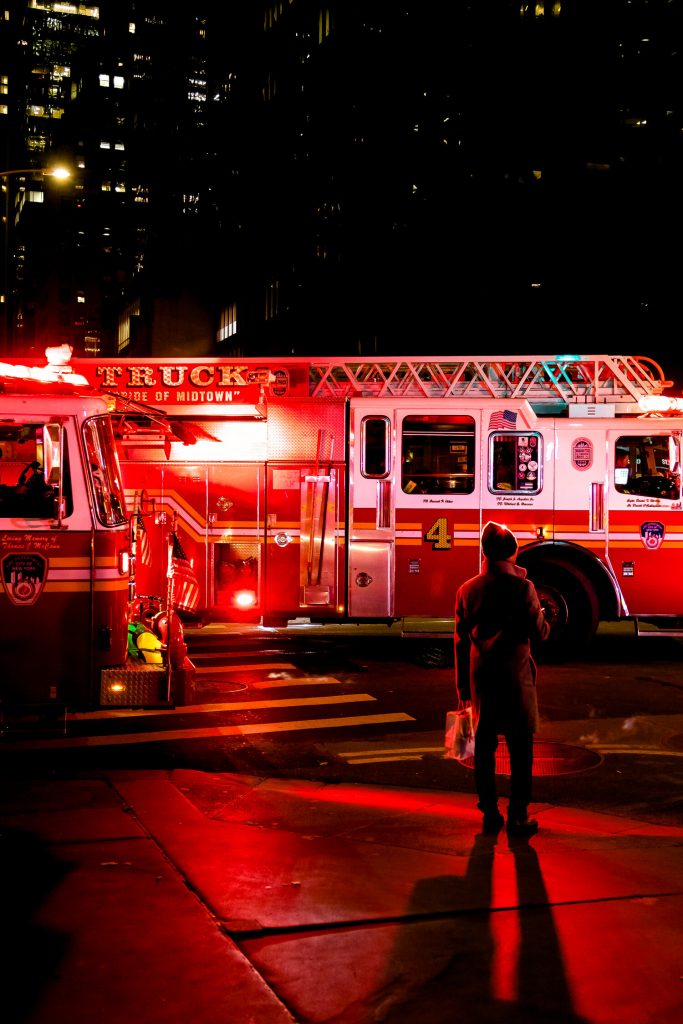 FEMA announces funding notice for Emergency Management Performance Grant Supplemental Allocation (click here)
The Department of Homeland Security and FEMA are announcing the funding notice for an additional $100 million in supplemental Emergency Management Performance Grant Program funds.
The money is available to all 50 states, five territories and the District of Columbia as part of the Coronavirus Aid, Relief, and Economic Security (CARES) Act.
---
The HEROES Act
4.3 Million Adults Eligible For Two $1,200 Stimulus Checks If HEROES Act Signed Into Law
---
U.S. House Passes HEROES Act — 12 Provisions for Healthcare Providers (click here)
WAIVE COST-SHARING OBLIGATIONS FOR COVID-19 TREATMENT.
REVISE AND FUND ADDITIONAL HEALTHCARE PROVIDER RELIEF GRANTS.
PROVIDE SIGNIFICANT AID TO CERTAIN HEALTHCARE PROVIDERS.
MAKE MEDICAID AND MEDICARE REIMBURSEMENT CHANGES FOR HOSPITALS.
INCREASE PUBLIC AND NONPROFIT HOSPITALS' ACCESS TO HIGH-SPEED INTERNET.
PROVIDE TEMPORARY MEDICAID SUPPORT TO STATES, TRIBES AND PROVIDERS.
REVISE THE MEDICARE ACCELERATED AND ADVANCED PAYMENT PROGRAM.
---
How To Apply For U.S. Department of Education CARES ACT Higher Education Emergency Relief Fund- IHEs (click here)
Closing Date: September 30, 2020
---
While many EMT and Paramedic education programs navigate this new and more complicated world of remote learning we hope something here helped you, if even just a bit.
The work of innovating in the realm of medical training and EMS simulation is more important than ever and we walk with you on this path.
That's all for now from the team at MedCognition.
Godspeed. Stay safe.
And keep up the amazing work.
Signing off,
Shay Steel
PS- If you need help navigating this new and complicated post-pandemic world of EMS training feel free to reach out to me. I think I can help. Just email me at shay.steel@medcognition.com
---
Shay Steel is the Director of Sales at MedCognition. She is a former law enforcement officer, forensic anthropologist, and park ranger. Shay is also a paramedic, EMS educator, speaker, patient advocate and dog mom.