Innovation is a necessity in healthcare. As researchers and doctors are working tirelessly to search for new and better ways to treat and diagnose patients, they've also looked into modern technologies to improve healthcare. One emerging technology that stands out to revolutionize a few aspects of the healthcare industry is mixed reality.
Like similar technologies such as augmented reality and virtual reality, mixed reality generates graphics and information to produce an enhanced environment and engaging visualizations. Our post on 'AR, VR, Mixed Reality ⁠— What's the Difference?' separates mixed reality from the two, and defines it as a technology that projects objects relevant to the environment that it's in. In the healthcare sector, mixed reality is improving critical aspects of the industry. Here, we'll look at how healthcare has utilized mixed reality and what we can expect with future innovations.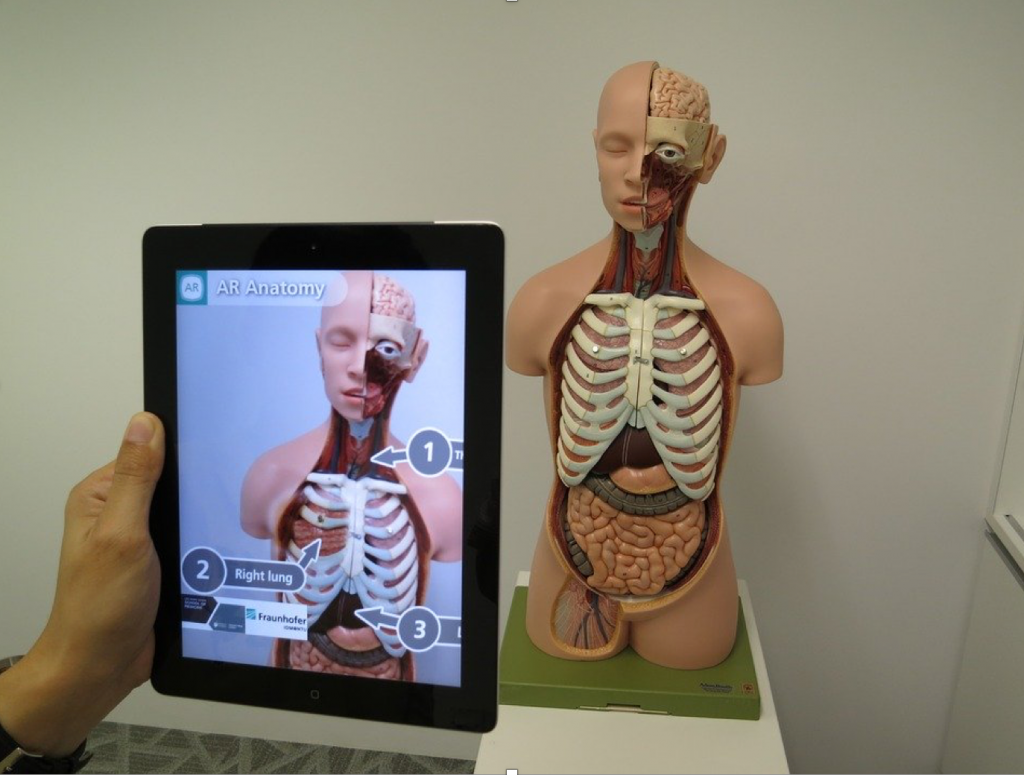 Applications of mixed reality in the healthcare industry
MEDICAL EDUCATION
With mixed reality, medical students can be fitted with head-mounted devices like the Microsoft Hololens to work on cadavers projected with interactive simulations. This tool lets surgery students perform practice surgeries without endangering patients. Furthermore, this application of mixed reality has proven to be a more effective teaching method for medical students. A University of Exeter study reports that head-mounted devices are favored over textbooks for usefulness and knowledge.
In today's current climate, mixed reality is quickly becoming one of the main ways for medical practitioners of all professions to continue learning. The International Nursing Association of Clinical Simulation and Learning (INACSL) has supported the "replacement of clinical hours usually completed in a healthcare setting with that of virtually simulated experiences." Broadening the scope of tools and experiences for training already follows a shift in how the nursing profession is studied. Maryville University highlights how RN to BSN programs have had to adapt to address the influx of these new technologies. In turn, leaders in nursing advance their knowledge continually in the face of emerging tools. Using this technology, nurses and doctors can continue their education in a safe environment with less contact with other students. It is clear now that there will be a much heavier reliance on virtual technologies, including mixed reality, to educate all medical professionals.
SURGERY
Surgery is a medical practice that requires a lot of precision. Through mixed reality, the success of a surgical procedure will be more secure. The digital health company SentiAr has developed a holographic augmented reality platform that could provide surgeons with patient info visualizations while performing a procedure. This technology allows a surgeon to check a 3D image of specific anatomies to ensure a surgical procedure's success.
TREATMENT ASSISTANCE
As the use of mixed reality rises in the world of entertainment and games, kids who are undergoing painful chemotherapy treatments can distract themselves by playing mixed-reality games. Medical startup Oncomfort has created a VR app called Kimo, which aims to make cancer treatment bearable for kids. Kimo provides fun programs and games that kids can play during their procedures, as well as digestible information to help kids understand their care plan.
FUTURE USES OF MIXED REALITY IN HEALTHCARE
The applications of mixed reality that we've listed above represent only the tip of the iceberg. As technology advances at a breath-taking pace, we might see mixed-reality used in healthcare in unexpected ways. Other than enhancing the patient experience and assisting medical procedures, technologies like mixed-reality can even reinforce the structure and organization of the industry itself. Experts predict that mixed-reality will soon become a necessary tool for the healthcare industry. Global News Wire reports that massive tech companies like Microsoft and Google are continuing to invest their resources to research medical applications of the technology.
---
Authored by Jaeda Boston for MedCognition.com