"88.8% of paramedics studied reported the need for pediatric drug dosing cards"
INTRODUCTION
Medication errors are common in the prehospital setting due to the complexity of treatment regimens and the hurried environment (1). Pediatric patients are especially at risk due to the extra steps, calculations, and processes involved in pediatric treatment.
The prehospital work environment is typically high-stress and hurried for paramedics. Prompt decision making and treatment with correct therapy is key to managing an emergency properly (1). Unfortunately, the fast-pace and pressure of the prehospital setting make the occupation prone to medication errors (1). These medication errors have significant impacts on patients, families, and the healthcare system (1). Side effects, allergic reactions, overdose, and death are all possible outcomes of a medication administration error (1). Due to pediatric weight and young age, pediatric patients are incredibly susceptible to side effects and overdose.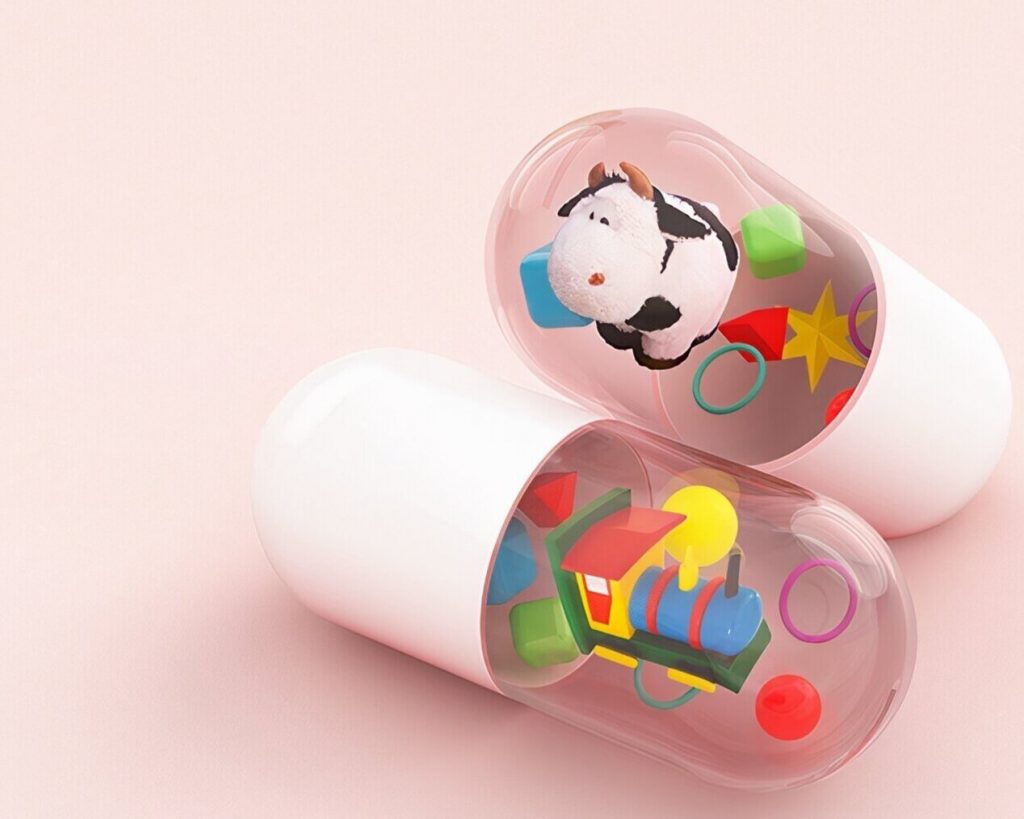 PEDIATRIC MEDICATION ERRORS
Paramedics are responsible for the safe administration of the appropriate medications (2). Many different factors can lead to drug administration errors in the prehospital setting (2).
Common medication errors in the prehospital setting include (2):
Incorrect dose
Giving a medication that is not indicated
Administering the wrong drug
Providing the right medicine via the wrong route
Inadvertently giving expired medication
Pediatric patients are especially susceptible to medication errors (3). The calculations and estimations involved must be entirely accurate to avoid medication administration errors (3). A study by Dr. Richard Lammers included 45 different paramedic crews and sought to identify the root causes of medication error in pediatric patients using simulated emergency settings (3).
The study mentioned above identified a variety of contributing factors, including (3):
Inaccurate weight estimate
Unaided calculations due to doing the calculations alone or in the head.
Converting a dose in milligrams to a volume in milliliters
Failure to cross-check medication calculations with another colleague
Impaired ability to do calculations while under stress
Inadequate/faulty recall of a prespecified dose
Identifying a dose in mg/kg that is not appropriate for the medication route
Error in calculating the proper milligram dose based on mg/kg
Measuring the volume from the wrong end of a prefilled syringe
The most commonly reported errors were mainly due to problems with calculation abilities and dose identification. These medication errors are preventable with the correct training and tools.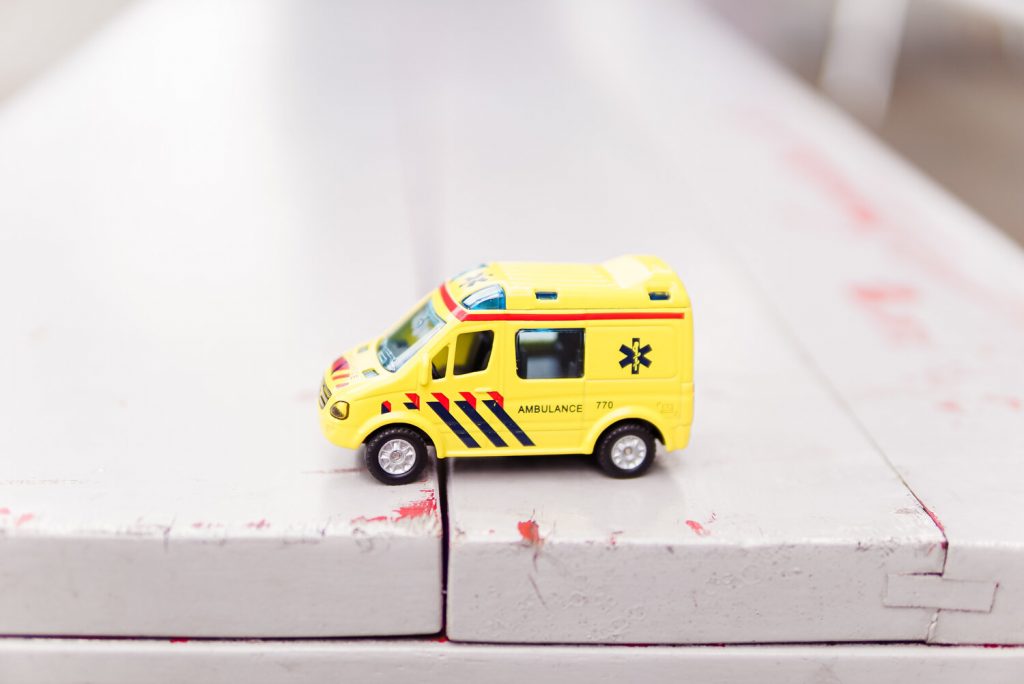 THE FIVE RIGHTS (4)
The concept of the five rights should be used with all patients to ensure that medication is administered correctly. The five rights require the paramedic to check five different medication administration aspects to ensure that they are right. To perform the five rights, check the following five things with each medication given to a patient:

i. The RIGHT patient
ii. The RIGHT drug
iii. The RIGHT dose
iv. The RIGHT route
v. The RIGHT time
THE MEDICATION ADMINISTRATION CROSS CHECK (MACC) (4)
Medications should be triple checked with a colleague when possible. All aspects of the medication administration should be confirmed with another paramedic before giving the medication. The Medication Administration Cross Check is a strategy developed by Sedgwick County Emergency Medical Services. The purpose was to provide paramedics with a protocol for medication administration checks.

i. Provider 1 lets Provider 2 know there is a safety check to be completed.
ii. Provider 2 then lets Provider 1 know they are ready.
iii. Provider 1 then lists the dose, drug name, route, rate (if applicable), and reason that the drug is being given.
iv. Provider 2 inquires about the presence of contraindications to the medication.
v. Provider 1 confirms the absence of contraindications.
vi. Provider 2 requests a confirmation of the dose, volume, or quantity of medication being given.
vii. Provider 1 states the drug dose/concentration and volume to be administered in milliliters or the number of tablets.
viii. After visual verification of the vial/bottle, Provider 2 confirms that it is safe and can be given to the patient.
TRAINING (5)
In general, most paramedics are not in contact with pediatric patients nearly as much as adult patients (5). Many medication errors are a result of a lack of clinical experience (5). Training is essential to learn why pediatric patients are more complex and how to take the correct steps to prevent errors (5). Continuous training throughout a paramedic's career is essential to remain educated and confident when treating pediatric patients (5). Training may include reading, calculation practice, hands-on simulations, or other types of education (5).
SIMULATIONS
Any type of error can be challenging to identify in a hectic emergency (3). A study by Dr. Richard Lammers and colleagues identified the root causes of multiple errors in a simulated prehospital pediatric emergency (3). The simulation was able to be repeated with 45 different crews of paramedics (3). These simulations were able to identify and uncover the underlying causes of errors and error-producing conditions related to pediatric patient care (3). Simulations can be a positive learning tool (3). As shown in Dr. Lammers's study, simulations can identify errors that may not be apparent in a real setting (3).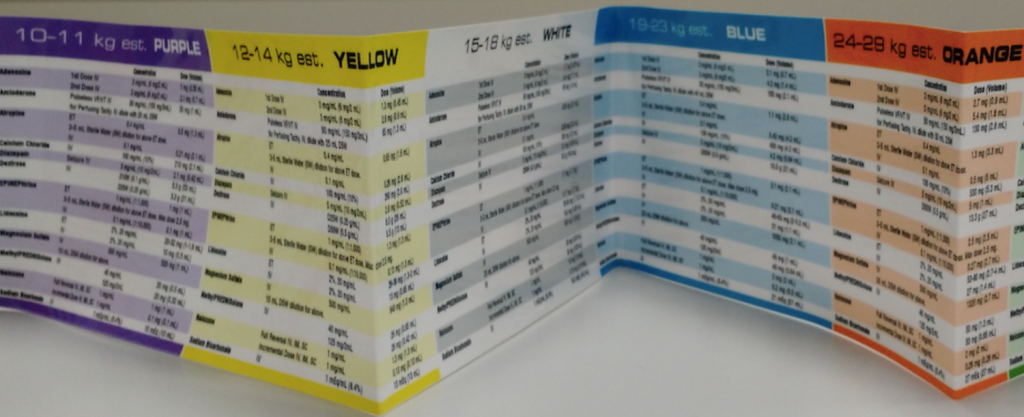 BROSELOW-LUTEN TAPE
Many different hospitals and other facilities use Broselow-Luten Emergency tape to treat pediatric emergencies (3). A Broselow-Luten tape uses a child's height to determine his or her weight. It then provides pertinent medical instructions like dosages, equipment sizes, and even the level of shock voltage required when using a defibrillator (3). Broselow-Luten Tape reduces the time needed to perform these intricate calculations and can help minimize errors (3,5,6). The use of Broselow-Luten Tape is a standard in pediatric emergency treatment (5).
PERIODIC COMPETENCY TESTING
Competency testing on the use of medication dosing reference cards and other cognitive aids can help encourage paramedics to stay familiar and confident with the content (3). Dose reference cards, Broselow-Luten Tape, and other helpful tools to make paramedics' jobs easier are only useful if paramedics are comfortable and confident when using them (3).
PEDIATRIC DRUG CARDS
In a study by Dr. J. D. Hoyle, 88.8% of paramedics studied reported the need for pediatric drug dosing cards with drug doses in milliliters for a specific weight (5). Pediatric drug cards serve as an easy and accessible reference and aim to decrease the number of calculations that a paramedic would have to perform to reduce the risk of making a mistake (5). Eliminating math and providing resources show significant improvements in accuracy in studies (5).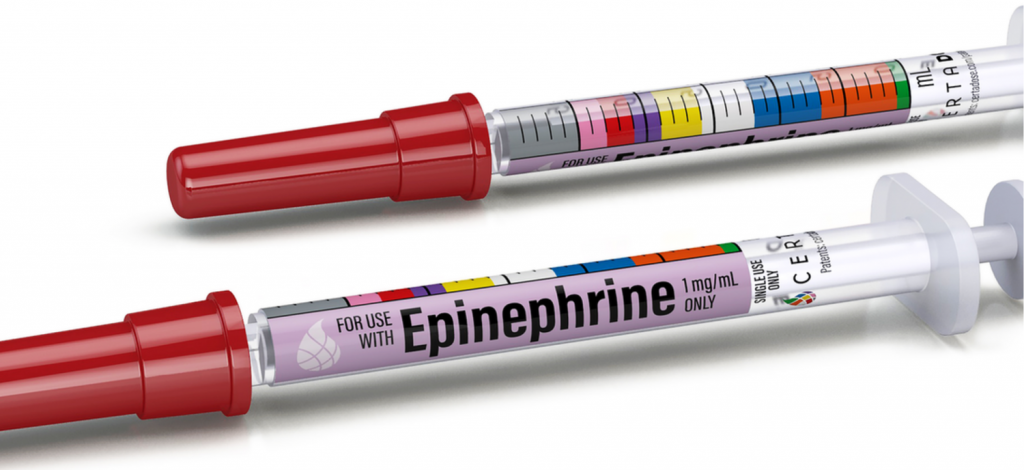 COLOR-CODED, PREFILLED MEDICATION SYRINGES
Novel medication delivery systems can help reduce medication delivery errors (7). One study observed error rates with conventional ampules vs. prefilled medication syringes that are color-coded based on Broselow-Luten Tape colors (7). The study found color-coded, prefilled syringes decreased time to medication administration and reduced dosing errors by paramedics (7).
"Simulations can be a positive learning tool. As shown in Dr. Lammers's study, simulations can identify errors that may not be apparent in a real setting. "
CONCLUSION
Medication errors are common in the prehospital setting. While medication administration errors are possible with any patient of any age, pediatric patients are particularly vulnerable because of extra dosing steps and required precautions. All paramedics should take extra precautions with pediatric patient medications to reduce the incidence of preventable errors. It is important to be aware of potential medication administration errors, identify medication errors that do happen, and implement continuing education and competencies to encourage paramedics to stay acquainted with pediatric medication dosing and administration.
---
References
1. Crossman M. Technical and Environmental Impact on Medication Error in Paramedic Practice: A review of causes, consequences, and strategies for prevention. Australasian Journal of Paramedicine. 2009; 7(3): 1-10.
2. Vilke GM, Tornabene SV, Stepanski B, et. al. Paramedic Self-Reported Medication Errors. Prehospital Emergency Care. 2006; 10(4): 457-462.
3. Lammers R, Byrwa M, Fales W. Root Causes of Errors in a Simulated Prehospital Pediatric Emergency. Academic Emergency Medicine Journal. 2012; 19(1): 37-47.
4. Misasi P and Keebler JR. Medication safety in emergency medical services: approaching an evidence-based method of verification to reduce errors. Ther Adv Drug Saf. 2019; 10: 1-14.
5. Hoyle JD, Crowe RP, Bentley MA, et. al. Pediatric Prehospital Medication Dosing Errors: A National Survey of Paramedics. Prehospital Emergency Care. 2017; 21(2): 185-191.
6. Wallace M, Tidwell D, Powell E. Paramedic Pediatric Medication Errors and High-Reliability Solutions. UCLA Prehospital Care Research Forum.
7. Stevens AD, Hernandez C, Jones S, et. al. Color-coded prefilled medication syringes decrease time to delivery and dosing errors in simulated prehospital pediatric resuscitations: A randomized crossover trial. Resuscitation. 2015; 96: 85-91.
---
Written by Hayden Gharibyar, PharmD for MedCognition
MedCognition created PerSim, the holographic patient simulator made to help you save more lives. EMS EDUCATION/ TRAININGSEPTEMBER 23, 2020